Why Clip In Hair Extensions Are The Best Choice For Your Hair?
---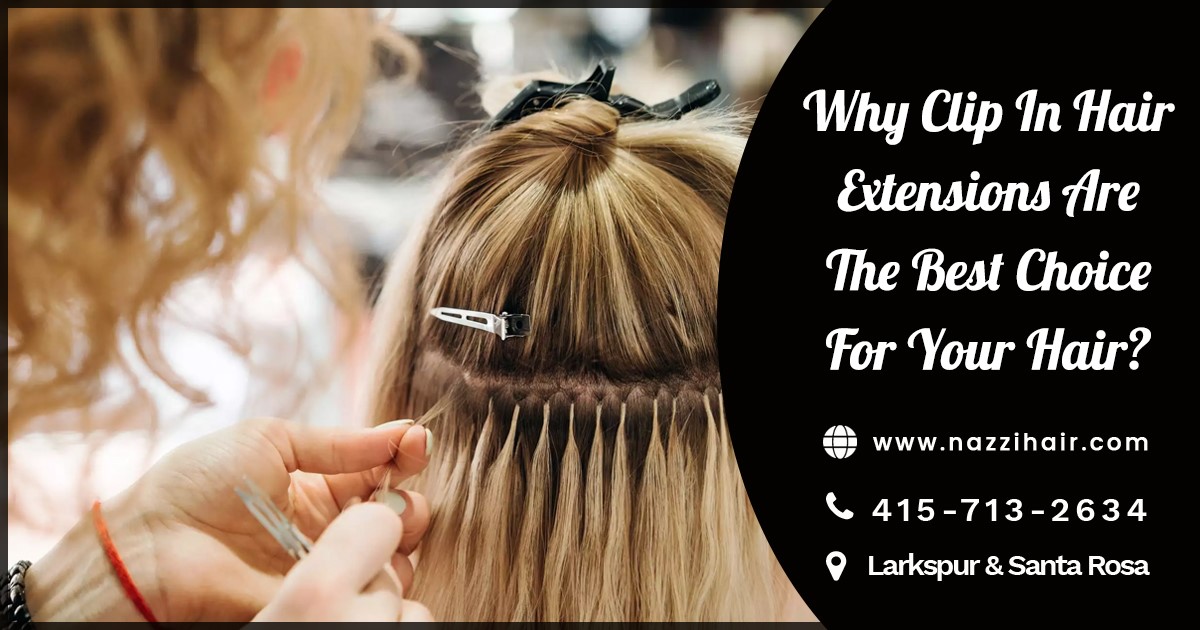 ---
It is difficult to maintain long, healthy hair. Luckily, we can solve that problem in a matter of minutes with hair extensions. Hair extensions are equally as popular as any other accessory in the world.
It's easy to maintain and care for clip-in extensions, which are one of the most popular hair extensions. These extensions can last longer than permanent extensions, and they are indispensable when changing your look quickly.
The most popular clip-in hair extension system is clip-in hair extensions. Whether it is a wedding, important work event, or a super important meeting, they are ideal for any occasion.
Even though they are available in synthetic materials, natural hair extensions are the best choice if you want a natural look, the freedom to style to your heart's content, and a long-lasting investment.
Why do people use clip-in hair extensions?
Clip-in extensions for natural hair allow us to create changes in our appearance quickly and clearly; they are an addition to our natural hair. In just a few minutes, you can have long, thick hair.
They are literally hair wefts that are attached with a clip holder at the root of the cut hair. They are made in a variety of lengths and thicknesses, and can be purchased in various lengths and densities.
Therefore, you will be able to simply take the wefts and clip them into the hair yourself, without having to hire a professional or spend a lot of time on it. With clip-in extensions, it's possible to instantly achieve thick, long hair without commitment, hassle, or a large price tag.
The benefits of clip-in extensions:
Growth - Change in style is not always connected to trying to stand out in a meeting or at a party; there are many reasons to consider. You can also use hair extensions to cover up hair problems. Hair extensions can help you regain your long hair if you are experiencing hair loss or your hair is growing out, and they don't inhibit hair growth while you are wearing them. In case of hair loss or to grow out hair, hair extensions can help you achieve long hair again, and they won't impede
Color - We have all experienced the feeling of feeling insecure about our appearance when it comes to our color. Hair extensions will let you experiment with your hair without compromising your natural hair, if you want to add highlights, lowlights, or shades but don't want to damage your hair.

Volume - A hair extension can help you achieve the volume you once possessed or dreamed of if you suffer from thinning hair or hair loss. You can also use clip-in hair extensions for everyday use or just to add volume to your hairstyles for special occasions.
Does a natural hair extension clip-in last for a long time?
You must take good care of your clip-in hair extensions, use only quality products, and wear them frequently to extend their life. If the extensions are properly cared for and used regularly, they can last from 3 to 6 months to a year or even longer; however, the length will also depend on the quality of the extensions and whether they are natural or synthetic.
The best clip-in hair extensions for you.
Your best clip-in hair extensions will be those that blend in perfectly with your hair, making them almost undetectable. Taking into consideration your natural hair color, the type of strands you have, and how you intend to use them in your daily life will help you achieve this goal.
The best hair extension solution, for example, may be a non-permanent system, such as clip-in hair extensions, since these can be removed for your activities and reattached whenever necessary.
Keeping your hair extensions clean and well-maintained will make them last longer and lessen their damage to your hair.
Get in touch with Nazzi in Larkspur and Santa Rosa, California to set up an appointment, she will help you with these ideas.
Book an appointment @ Call 415.713.2634 or visit us @ www.nazzihair.com