What Makes Clip-In Extensions Better
---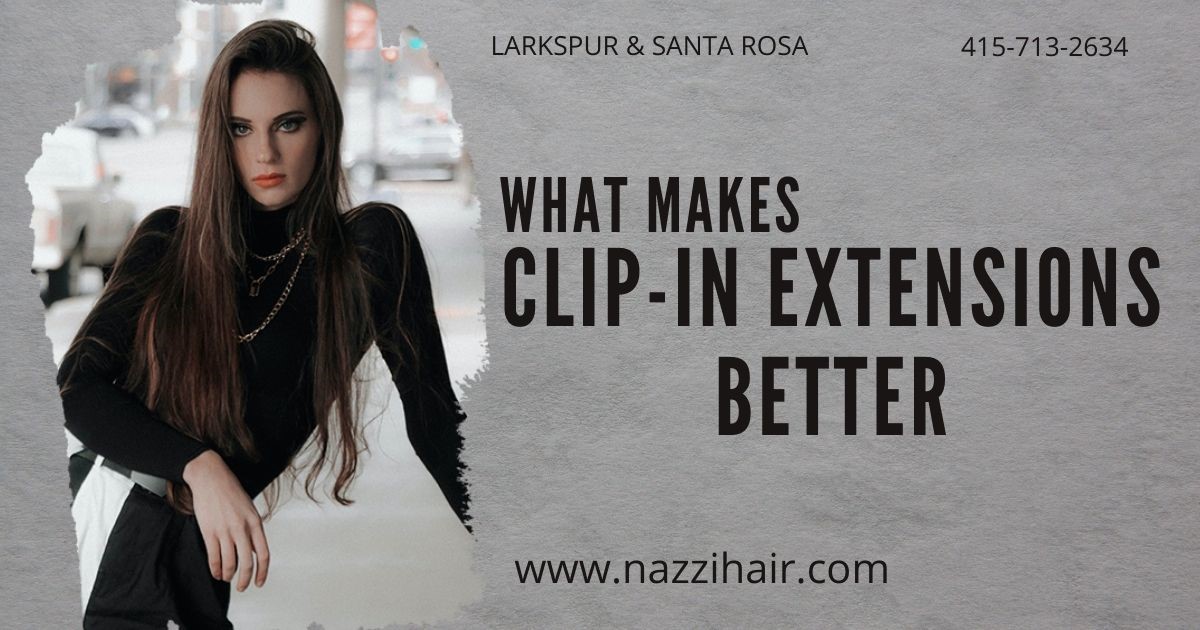 ---
A hair extension is a great way to instantly make your hair fuller, longer, and more voluminous without having to commit to a wig. In addition to being easy to apply and maintain, hair extensions can last up to one year when cared for properly. The fact that there are so many different types of hair extensions makes it a bit confusing for those who have never worn them before. Hair extensions can be clipped, sewn, or taped, as well as fused using adhesive and a hot fuse gun to fuse them to your natural hair. The extensions are extremely damaging to the hair and can take hours to apply. They can also cause traction alopecia, which you don't want. That's why clip-in extensions are more comfortable and easy to apply.
How Do Clip-In Extensions Work?
Several different size wefts of hair are attached with silicone or fabric to the base of clip-in hair extensions, which are then attached to your own hair with pressure-sensitive clips. Several clips and several different wefts of hair can be included in one clip-in hair extension set. You can experiment with your hair without visiting a salon and clip-in hair extensions are among the cheapest extensions out there. They take about 15 minutes to apply.
Hair extensions with clips can be purchased in a variety of color and length options, as well as synthetic or human hair.
What is the best way to apply clip-in hair extensions?
The attached pressure-sensitive clips facilitate the application and blending of clip-in hair extensions into your natural hair.
Using a ponytail or clip, secure your top hair with a clip or section off your hair starting at the back of your head. Make sure the extension is flat along your scalp. Once your hair is combed out, attach a weft to that section by opening the clip and sliding it right into your natural hair before closing it. Be sure to blend and hide the weft underneath your bio hair in the areas you desire most, either in the side or back of your head.
What is the lifespan of these items?
In contrast to semi-permanent extensions, clip-in extensions are not worn on a daily basis and are not washed with your natural hair, so they take a long time to wear out. It is necessary to properly comb, style, wash, and store your extensions in order for them to last up to one year. You should not wear clip-in hair extensions at night as they can damage your scalp and hair overnight if they are not properly styled, washed, and stored. Clip-in hair extensions should not be worn at night, however, because they can damage your scalp and hair.
What We Love About Clip-In Hair Extensions
If you want, you can wear clip-in extensions almost daily since they are easy to apply and remove. There are no scary heat tools, adhesives, tapes, or chemicals involved with clip-in hair extensions; just easy-to-use clips! The best part of clip-in hair extensions is that there is no pain or damage to your bio hair when they are applied correctly. They are low maintenance, last long, and are affordable.
Set up an appointment with Nazzi in Larkspur and Santa Rosa, California, and she will help you with these ideas. For more information, visit www.nazzihair.com
The information above is intended for general reference purposes only. It is not a substitute for professional medical or health advice. Always seek advice from your physician or other qualified health professionals before starting any new treatment.