Ponytails are One of the Best Styles for Long Hair: 5 Ways to Wear It
---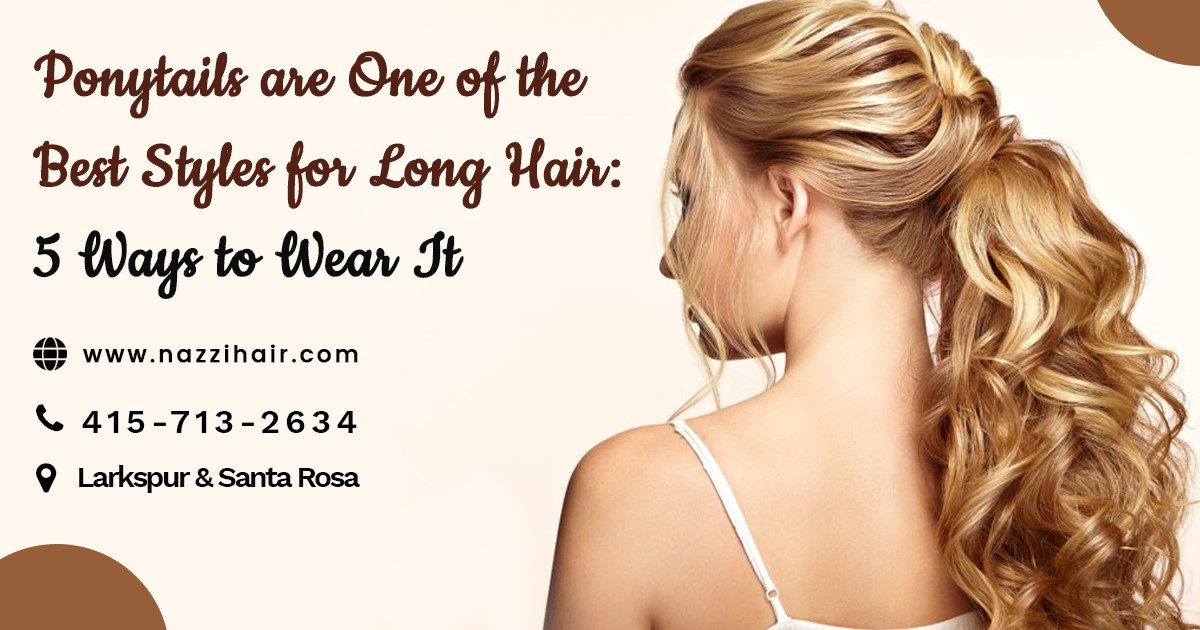 ---
Ponytail Styles for Long Hair
If you are looking for hairstyle ideas for long hair, consider the ponytail. When it comes to hairstyles, nothing is easier than a ponytail. When you're at home or working out at the gym, the ponytail does more than just keep your hair out of the way. A ponytail serves many purposes. You can wear a ponytail easily for brunch on the beach or to go from daytime to nighttime chic with a little creativity. Here are the 5 ways to spice up your pony.


A Knotted Pony
Cocktail chic is the epitome of this look, which is incredibly elegant. Don this ponytail while you sip a Manhattan and wear your favorite dress and heels.

This style is characterized by the fact that hair accessories are hidden and your hair becomes the accessory.

Wrap part of your ponytail around the hairband to conceal it, then secure it with a Kirby grip underneath to hold it in place. Tie your hair in a ponytail with a thin hairband. Although we have placed the hair in the middle, it can be positioned higher or lower depending on the look you want. Cheers!

Style freshly washed hair for this kind of sleek look where the hair is pulled back close to the head. Especially if you have oily roots. Once you have styled your ponytail, you can spritz Glossy Mist along the length of the hair for extra shine.


A High Pony
It is just a matter of lifting your pony away from the nape of your neck to create an elegant, dressed-up appearance. It gives you height at the crown and will change the style of your hair instantly. Our favorite long hairstyle idea is this simple style.

Long hair can work with this style. It works great for curly hair in between washes, as shown here with curly hair. You might be tempted to scrunch up your curly hair into a bun or hide it under your hat a couple of days after you've washed it. Alternatively, if you're looking for daytime chic, you can rinse your curls with Hydrate and Shine Conditioner before lifting them into a high ponytail.


A Plaited Pony
Let your plaited pony run wild. Keep the hair loose and use a small band to secure the hair at the nape of the neck. This works best on hair that hasn't been freshly washed. A bit of body and some muss to the hair is necessary. Styling Mist for Volume is perfect if you want to add a bit more volume. As a rule, it's best to use it damp before you dry your hair, but you can also use it dry to give your style a lift. Another option is to gently brush your back with a small toothcomb. It's important not to overdo it. Keep it looking natural with lightweight styling products since this look is meant to appear effortless.

Make your ponytail easy and party-ready by finishing the plait halfway down, tying it in place, and letting out a few strands. The plaited ponytail has a strand of hair wrapped around it at the bottom to hide the band. This undone ponytail plait is gorgeous. We don't always like to wear our hair too 'done'. We love the way it looks when we don't want to take ourselves too seriously. So, are you ready to party?


A Twisted Pony
Make your ponytail stand out. Make a ponytail at the top of the head, then split the length in two and twist it together before you tie the bottom with a hairband. Daytime looks like this are more simplistic than plaits and we think they're a great summer style. Easy to wear on a hot day. How could you not love it?

Freshly washed hair is best for a high pony because it sits close to the head. It's more refreshing to place the ponytail up and towards the top of your head for a daytime appearance.


A Side Pony
Your ponytail will instantly look more sophisticated if you tie it at the side of your head. If you're headed to the beach or the pool, keep it relaxed with plenty of volume at the ends for a softer look during the daytime.

Because it's completely low maintenance, this style is perfect for the holidays. The poolside and the evening are both possible options. Create beachy waves with a gentle twist of the hair. To push the hair back into place, release your ponytail, lightly shake it, or use your fingers.

There you have it. You can easily update your look with these simple hairstyle ideas for long hair. No matter what the occasion, there's a ponytail to fit your style if you have long hair.
Get in touch with Nazzi in Larkspur and Santa Rosa, California to set up an appointment, she will help you with these ideas. For more information, visit www.nazzihair.com.