How To Style Curly Hair In A Romantic Way
---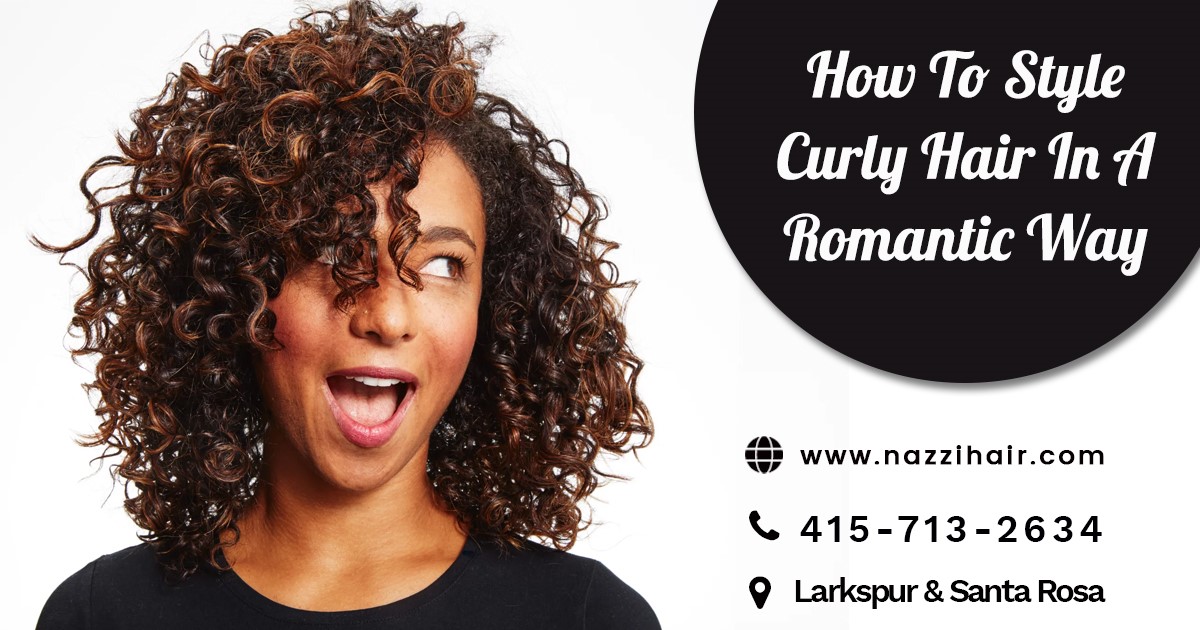 ---
Historically, curly hair has been a taboo in society, and women wearing it have been silenced or regarded as not fitting the standards of beauty. Today, curly hair is gaining more traction and proving that it is here to stay. Hence, here are 2022's sexiest romantic hairstyles, in which you can flaunt those curls like a queen.
There are options for every style and occasion here, whether you have curly hair that is short or long, whether you wear extensions or not. Whether you're going to a get-together, a girls' night out, or on your wedding day, you'll look fabulous in our collection. Don't forget, attitude is everything!


Short curly hairstyles that are romantic.


A pineapple's hair:
Starting from the nape of your neck, comb your short curly hair up to its highest point. Once you've done this, you can tie it with a hair tie, making sure to have all your hair facing away from your forehead. Once you've done this, you can wrap the ponytail with a scarf. Your ponytail will now have more volume and look more relaxed.


The side braids:
Put away those old hooks on the sides of your head; wear the thin braids that are all the rage now. Rubber bands and hairspray are needed for this curly hairstyle. Make three equal strands out of the right side section. Each strand should be braided. Apply hairspray to each braid and secure with rubber bands - you're done!


Front braids:
Back to the basics! Make two very light braids to achieve an extremely fresh look. This seems to be the most popular trend right now. Split the hair in two and braid up to your chin. Secure each braid with a bobby pin and leave the rest loose. By leaving it over the bobby pins, you can cover the bobby pins with it. We recommend this version for a laid-back time with friends.


A braided high bun:

When your hair isn't feeling worn down, this hairstyle is ideal. You can do it by braiding one of the front strands of your hair into a French braid. Make a high ponytail by gathering all the hair upwards. Depending on your preference, either you finish the ponytail and hide the strands of the bun with a few hairpins, or you finish straight into the bun.


A romantic hairstyle for long curly hair:

Ponytail with French braids:
Suitable for a variety of occasions, this hairstyle is easy and romantic. Start by untangling and preparing your curls, then braid from a little above the center of your head, and move the hair towards the center for the best results.
To give it a delicate touch, tie a loose strand around the braid at the nape of your neck with a hair tie. Using a comb, add a little volume to the braid and spray it with hairspray. It can also be decorated with small flowers or accessories for a special occasion.


Twisted maiden braids:
A simple bobby pin and a few minutes are all it takes to show off your natural curls with this hairstyle. Create a braid with a small section of hair from the front of your head, then gently loosen its sides by pulling its sections.
After you have completed your braiding, take both braids to the sides of your head and cross them like you are about to tie a knot. After you have done that, secure both ends with a bobby pin and continue wrapping the ends around both braids. It's that easy! A romantic hairstyle in less than five minutes.


High rounded knot:
It is more striking when the knot is higher and bigger. Depending on your preference, comb your hair to the middle of your head, maybe a little higher.
Create the rounded effect by twirling your ponytail with your hands after you tie it in a ponytail. Lastly, spray the curls with a special hairspray before letting your ponytail fall slightly. You will look beautiful wherever you go with this look.


A romantic double braid:
Here's a look you can achieve effortlessly in just five minutes that's soft, romantic, and very summery. You should first keep your hair loose, reach around the sides, and create a part a little above your ear, about a finger's distance from your top lip.
It's possible to make the bun as high or as low as you want. All you have to do is secure it with bobby pins! If you wish, you can add accessories such as colorful clips.


The best romantic hairstyles for brides with curly hair:


In addition to being on-trend, curly hair can be a fabulous choice for the happiest day of your life. Hairstyles with waves provide more volume to your hairstyle, which is why many brides purposefully curl their hair for their wedding day! Quite a few, actually! It's a natural way!
There is one type of hair that can be associated with every wedding theme, be it extravagant, elaborate, fancy, or simple, and that is curly hair, so take a look at these ideas and don't skip any of them.


Updo hairstyles:
Hairstyles with updos are timeless. This minimalist alternative is ideal for the type of bride who prefers simplicity. It is easy to associate low updos with the golden years of cinema, as they have a vintage feel.
Water waves are the basis of its style. They are created by creating smooth waves from 10 to 15 centimeters after the root, which is then collected and arranged to create a very romantic style, ideal for classic and sweet brides.


Semi-updo hairstyles:
If you are a bride with abundant hair, semi-updo hairstyles will flatter you. With this hairstyle, volume is key, and what better way to achieve it than by using waves or extensions.
Creating a faux bob can create the illusion of shorter hair if your curls or waves are very pronounced. As these curly hairstyles have a casual appearance, they will look good at all times of the night.


Ponytail tousled and low:
For brides with thin hair, the low, tousled ponytail is more flattering than the half updo. There is a secret to this hairstyle, which is the way the wavy hair is held in place so that it is untangled a little inside the up-do to give it a tousled look, which has become a popular trend.
This is the one for you if you aren't only interested in the latest wedding dress trends for 2022, but also in the latest beauty news.


Braided hairstyles:
Hairstyles with braids are a trend you should pay special attention to if you are one of those who melt when thinking about wedding flower arrangements. There are dozens of variations to this proposal, which can be adapted to fit different brides and hair types.
This style is particularly flattering for curly and thick hair since it keeps them under control in a fantastic way, plus braids and waves complement each other very well. Choose from a variety of hairstyles featuring frizz and braids to wear with flower crowns or headpieces.

A loose ponytail:
If you wear your hair down as part of your identity, then you don't have to change it on the day of your wedding. Curls or waves that are hydrated will make you look special, preserve your identity, and most importantly, make you feel comfortable. By adding a jeweled headband, your loose hair can be elevated a bit.


Updos with extensions:
To add density and volume to your hairstyle on your wedding day, it is a good idea to use natural hair extensions. Extra-long clip-in extensions will add a touch of romance to your hairstyle.
These hair extensions allow you to achieve updos that are creative and stylish while incorporating imagination and good taste.

It is no longer a disadvantage or something that is unattractive to have curly hair, rather it is quite the opposite, so don't wait any longer and show off your curls!
Get in touch with Nazzi in Larkspur and Santa Rosa, California to set up an appointment, she will help you with these ideas. For more information, visit www.nazzihair.com.