Hair Extensions: Different Types?
---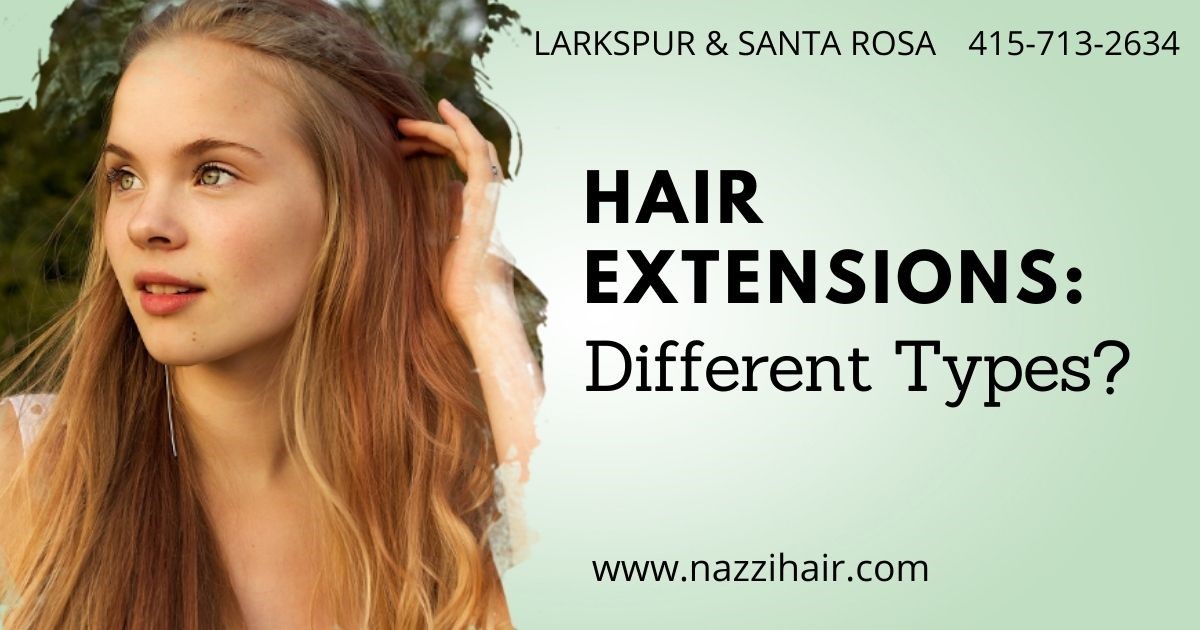 ---
What's the difference between clip-ins, tape-ins, weaves, pre-bonded, fusion, and micro-links? When you are new to the world of hair extensions, you may find the variety of styles and terms overwhelming.
With the information provided in the following article, you'll be better able to make an informed decision regarding your hair. Put your hair up, get comfortable, and let's get started.
Synthetic vs. human hair extensions
It is important to understand that there are two types of hair extensions: real human hair extensions and synthetic hair extensions. How do they differ?
Hair Extensions: How They Are Made
It's exactly what it sounds like: human hair extensions. From top to bottom, they are made from real, human hair. When Remy hair is collected, all cuticles (the outer layer of the hair) run in the same direction when they are collected. As a result, the extensions remain smooth and silky for the duration of their use without tangling.
Human hair does not appear in synthetic hair, which is made up of a variety of synthetic, blended fibers. It is usually made up of very fine plastic fibres that are manufactured to mimic the appearance of real human hair.
The Look & The Feel
There are many different styles, colors, and applications for both real and synthetic extensions. It's possible to find synthetic fibers of varying quality, but they are generally stiff and move differently than human hair, so they don't match your natural hair as well. Occasionally, they feel wiry or coarse to the touch. It blends more naturally with your hair since it looks and feels real (because it is!).
Color & Styling
Hair extensions made from human hair can be treated the same way as your own natural hair. The hair can be straightened, curled, blown dried, colored, and treated with hair products. Because synthetic hair contains ammonia and bleach, most dyes cannot be used on it. Furthermore, heat can damage synthetic hair, so curling irons, straighteners, and blow dryers are not recommended, as they will melt or severely damage the hair. Synthetic hair extensions can also be damaged by other factors, such as sunlight, friction, and harsh hair products.
Quality & Longevity Of Hair Extensions
The cost of synthetic hair is lower than the cost of real hair, but there is a trade-off. Because they're made out of synthetic fibres, they do not last as long as human hair since they can easily be damaged by the above-mentioned factors (sun, heat, etc.). Synthetic extensions generally last for a few months, whereas human extensions can last for a year if properly cared for. On average, Remy human hair extensions last about a year.
The best way to style and treat human hair is to treat it like your own hair, which will look and feel natural. Unlike synthetic hair, it will blend easily with your hair and last much longer. Synthetic hair is cheaper than real hair, but it does not look as natural, it cannot be styled with heating tools, and it does not last as long.
Let's move on to the different types of extensions now that we've heard about real and synthetic extensions.
1. Clip-in Hair Extensions
A clip-in weft, also known as a clip-in extension, consists of a strand of contoured pieces attached at the base with either silicone or fabric. There are clips attached to this base that are ready to use out of the box. It's as simple as clipping the pieces to your natural hair!
2. Tape-In Hair Extensions
It's exactly what it sounds like: tape-in hair extensions. You tape/glue the extensions to both sides of your own hair after they have been pre-taped. Tape-ins are generally applied by a hairdresser since they need to be aligned with the roots and are applied with a heated tool.
3. Sew-In Hair Extensions/Weave
A needle and thread are used to sew and weave hair into cornrows or braids after the natural hair is braided into cornrows. Because of the way they are applied, weave hair extensions are primarily used on people with thicker hair. In general, the weaving application takes a lot of time (usually several hours.) The tight application method often strains the scalp and can feel very heavy and uncomfortable, which is why it doesn't work for thin or lighter hair.
4. Fusion & Pre-Bonded Hair Extensions
A variety of adhesives such as glue are used to fuse fusion hair extensions to natural hair. Pre-bonded hair extensions are applied by a hairdresser and take approximately 3-4 hours to apply. Your hairdresser may even advise against using fusion extensions since this type of application can cause severe damage to your natural hair. This application involves gluing the hair to individual strands of natural hair using a machine that looks like a hot glue gun. To melt the glue to the natural hair, a heat clamp can also be used to apply for pre-bonded hair extensions.
5. Microlink Hair Extensions
There are several names for micro link hair extensions, including micro bead extensions and micro loop extensions. Using a small silicone-lined bead, tiny wefts of hair are attached to small sections of the natural hair. To hold the bead in place, a special tool is used to secure the bead to the hair. Even though micro link hair extensions do not use heat or glue, if not installed correctly by a professional, they can be damaging. A tightened bead can cause pressure and pulling at the roots, resulting in the hair being pulled out if not removed properly. Approximately two to four hours are required to apply this method.
6. Wigs & Hair Pieces
There are different types of wigs and hair pieces that can be applied topically to hair. The purpose of a long, full wig is to cover your entire head (fun fact: wigs used to be called "head coverings" for this reason). As well as lace fronts and netting, are just methods for making wigs. In addition to replacing your own hair, wigs cover your entire head. Many reasons can lead to the use of wigs, such as hair loss, balding, or simply to change your appearance.
That's all there is to it! With this information, we hope you can make an informed decision about which type of hair extensions would be right for you, your hair type, and your hair goals.
Set up an appointment with Nazzi in Larkspur and Santa Rosa, California, and she will help you with these ideas. For more information, visit www.nazzihair.com.
The information above is intended for general reference purposes only. It is not a substitute for professional medical or health advice. Always seek advice from your physician or other qualified health professionals before starting any new treatment.