Five Easy Tricks for Blending Hair Extensions with Short Hair
---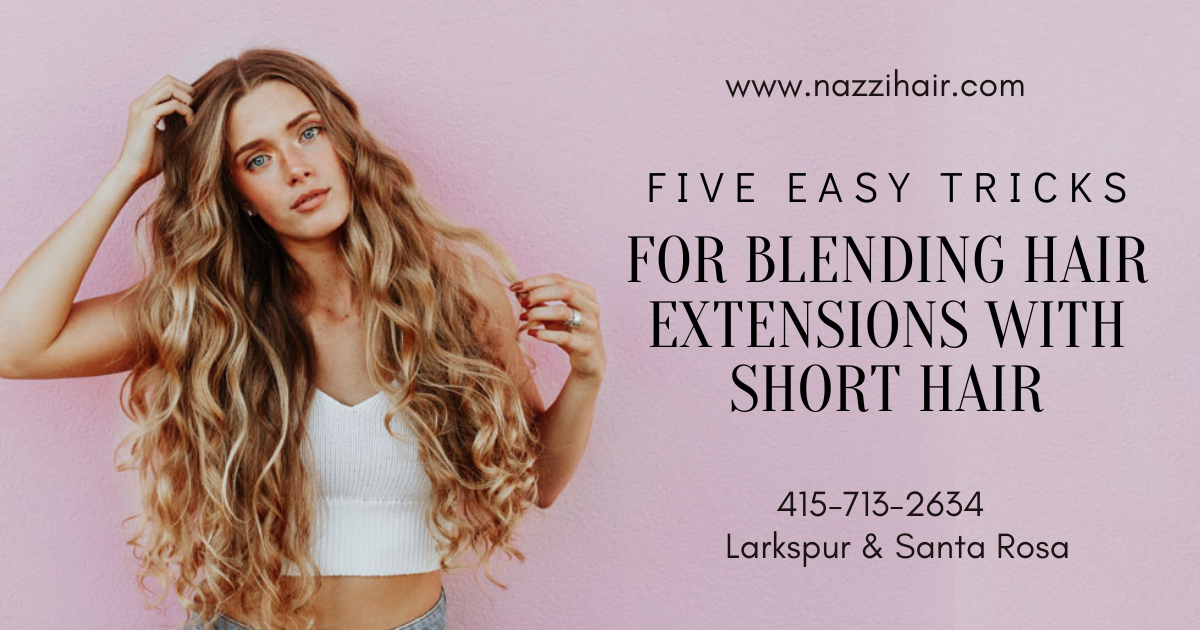 ---
"I need a change" is what a short haircut is all about. You can quickly feel different if your hair length changes dramatically. It's like a fresh start.
Additionally, short hair can be very manageable; styling can be easier than a long or thick head of hair. Nevertheless, it can get tiresome after a while, and we might want to spice it up with something new and exciting.
People think that clip-in human hair extensions for short hair may seem tacky or not secure enough, but that's not the case. For example, it may be not easy to braid or cornrow short hair. The hacks below will show you that short hair blends seamlessly with hair extensions.


Use clip-in extensions that match your hair texture.

A more textured look is best if you have tight curls or coils. Because of this, it is important to get extensions that look natural, so that when you clip them in, it won't be obvious that you are wearing them.

You would want to go for extensions that suit your hair type, whether you have a loose curl pattern or straight hair. People are almost unable to tell you are wearing clip-in hair extensions when you use black hair extensions that match your hair type. The key is to blend seamlessly.


Do the opposite of the norm, but don't forget to blend!

Having the same hair or doing the same thing gets old after a while. Your hair may need to be straightened, curled, or colored to match the extensions. You decide.

Choosing hair extensions with the same length as your hair will give you that seamless look by making it appear you just added hair extensions.

Ideally, the difference should not exceed 4 inches for the most natural look. For a seamless blend of straight and curly hair, be sure to straighten or curl your hair along with the extensions.

People with burgundy or blonde hair may dye it that color because of the color. For shorter looks, rooted color is the best option. Thus, you will be able to avoid having a style that requires frequent retouching and maintenance. No matter what your hair color is, blonde, red, purple, burgundy, curly, straight, or wavy, you can have it!


Let the professionals handle it.

We recommend that you go to a professional hairstylist if you do not feel comfortable styling your hair. The majority of licensed hairstylists are more than capable of giving you that seamless look without any issues.

It is important to show them your desired look and be honest about whether you can maintain it. What you don't want is to get a fabulous style that only lasts for one day, and you don't know how to keep it.

Keep up your style by asking for product recommendations. Certain products may be used if you have coarser hair. Other products may be suggested if your hair is finer. In addition, your stylist can suggest ways to maintain your style best.

Ensure you ask your stylist how to anchor clip-ins to avoid slipping out of your favorite track if you choose to use clip-ins. Your stylist has a magic touch. You can count on them to keep your hair healthy and looking great.


The Drawstring Ponytail

Many shorter-haired people can pull their hair back into a ponytail. However, their hair may not have enough length to look volumized. The good news is there are plenty of hairpieces that can give you that look in a snap.

Puff drawstrings are often used by natural hair sisters to transform their TWA (teenie weenie afro) into a timeless style. A textured natural look is virtually undetectable, which is the great thing about it.

It would seem that their hair is their real hair if you do not know them personally and do not know their hair length. The simplicity of these ponytails is quite impressive. Be sure to lay your hair down properly and take your time.


Braid it!

You must not apply too much tension to your hair when braiding. Getting braided styles that are too long for short hair can be too much of a hassle.

When you wear braids, you are protecting your hair, and you don't want to damage it. It is also possible for braids to slip out prematurely when they are too heavy for your hair. Let a professional do this.

Being aware of how much hair to add and knowing how to grip shorter hair takes skill.

Set up an appointment with Nazzi in Larkspur and Santa Rosa, California, and she will help you with these ideas. For more information, visit www.nazzihair.com