BALAYAGE VS. OMBRE: What is the Difference?
---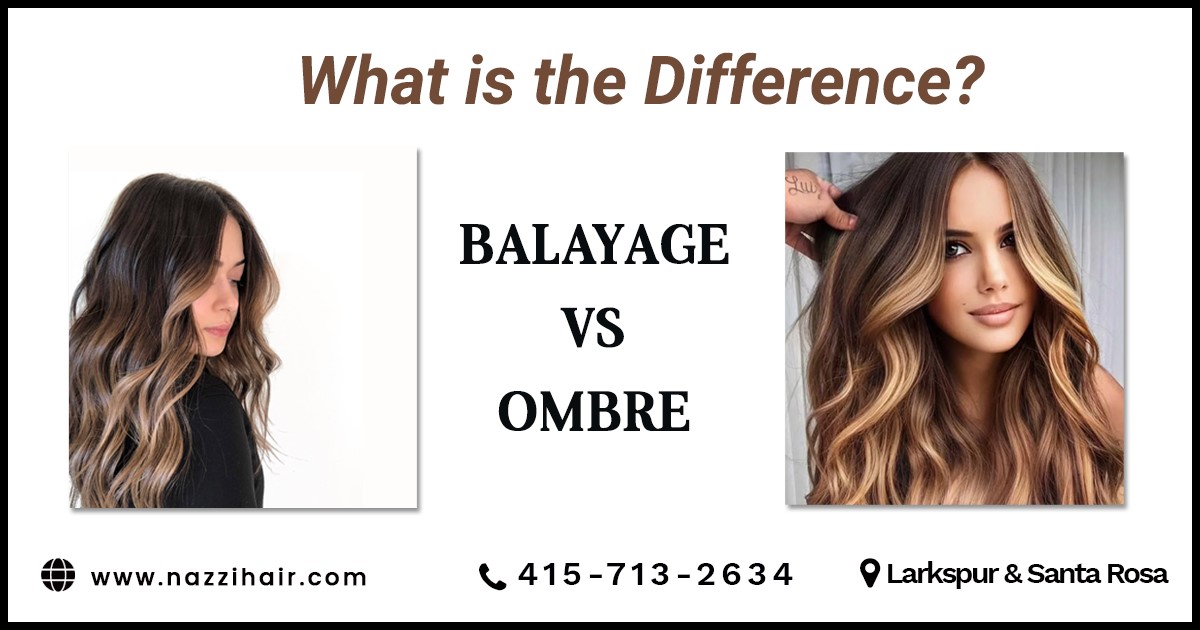 ---
The term balayage refers to the application of color whereas ombre refers to something like a style or effect.
When an ombre is created, usually a lightener is placed horizontally with full saturation of a section, and then it is blended upward to diffuse the line. A Balayage involves painting the color onto the hair surface. Little sections are taken. Therefore, the ombre is more horizontal while Balayage is more vertical.
The good news is that both result in a pretty low maintenance routine since the placement of the haircolor is gradual (for Ombre) or sweeping (for Balayage). For example, regular foil highlights require more frequent salon visits. It will, however, be more expensive. It can be expensive to get the service you need and to reach the result you want, but keep in mind that the final appearance will require much less maintenance.
Oftentimes, both Balayage and Ombre are specialized, requiring a higher beauty budget and more time in the salon. Despite being a low maintenance result, it is important to maintain optimal color results with regular visits to the salon and hair care treatments.

WHAT IS THE DIFFERENCE BETWEEN OMBRE AND BALAYAGE?
Regardless of the desired outcome, anyone can try either look. It is possible to combine both techniques on any desired hair color.
Your choice will really depend on the kind of look you want. The artist should be able to work with you on either technique to create the desired color effect, regardless of whether you want a blonde, brunette, red, rose gold, or vivid colors.
Consider balayage for a more natural, subtle look, but discuss your desired outcome with your stylist. "The possibilities are endless!"
Depending on how often you change your hair, you may need to repeat the process a number of times at the start. In order to achieve a much lighter color, your stylist may need to visit you several times in order to achieve your desired outcome. The hair lift will not happen in one visit, as it takes time. The slower the lift, the safer it is.
What is the best way to make my Ombre or Layage last?
The key to maintaining and achieving ombre or balayage color is to protect your hair. The pH balance of your scalp changes whenever you color your hair. Whether it's lifted to a brighter color or altered to a darker one, it affects the pH balance. It's important to discuss with your stylist what's best to keep your hair healthy.
Get in touch with Nazzi in Larkspur and Santa Rosa, California to set up an appointment, she will help you with these ideas.
Book an appointment @ Call 415.713.2634 or visit us @ www.nazzihair.com