2022's Top Hair Color Trends
---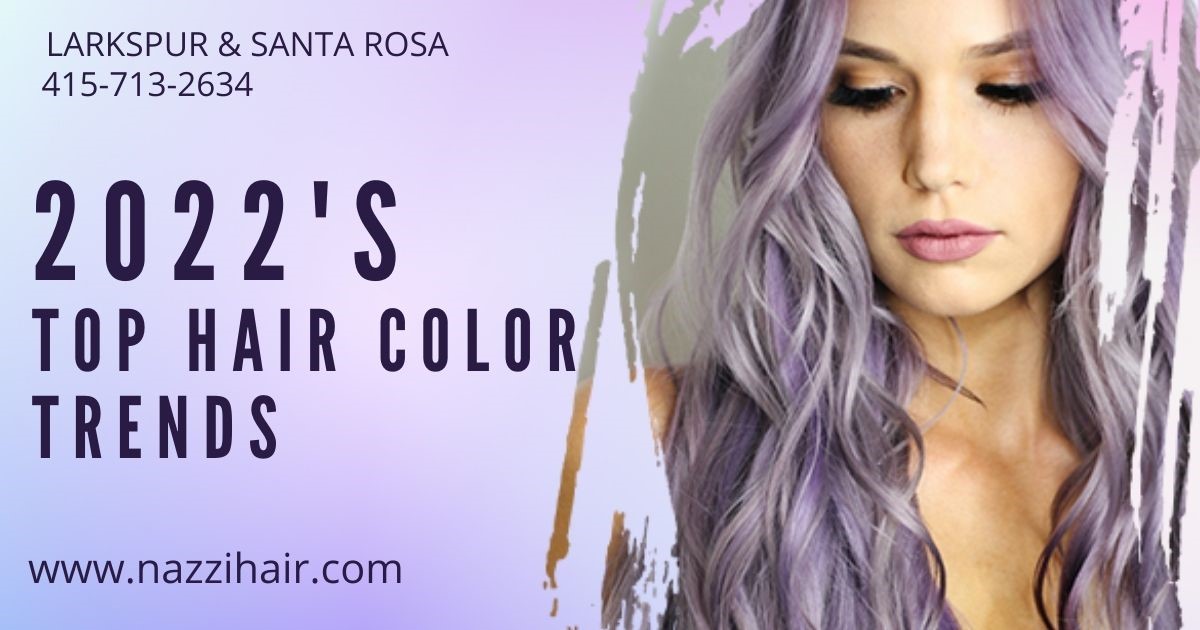 ---
Hair trends this year are all about playfulness. Make sure to be bold and experiment with a glossy, multidimensional hue rather than shying away from color! Here are 24 of the hottest hair color trends for the year; some are subtle if you want a natural look, and others are dramatic! Try one of these trends below to kick off the season in style.
1. Holographic Hair
Upon holding it to the light, holographic hair appears like a CD and reflects blue, yellow, purple, and green hues. The key to achieving this colorful mane is to start with a blonde base and work with a stylist who has experience blending multiple colors. This cool, futuristic look is worth all that time in the salon chair. You can highlight your hair's mix of colors by wearing a fishtail ponytail.
2. Rose Gold Hair
There's no denying that rose gold hair is all the rage! Blonde or brown hair looks great with this pink tint. Whether you want to dye your hair all over, highlight it, or just highlight the ends, you can do it. This summer, lighten up your ombre look and ensure you look radiant if you had it last season.
3. Peekaboo Highlights
The pop of color in this look is so fun! Take a look at our peekaboo hair extensions if you enjoy color but want to limit hair damage. 100% Remy human hair in three playful colors can be styled and curled to achieve any look you desire.
4. Color Melting
The process of melting color involves combining multiple tones to create a seamless hair color from root to tip. With full, bouncy waves, this fluid movement of colors would look glam.
5. Watermelon Hair
Just like the juicy fruit, this vibrant color combo looks delicious! You might want to try this incredibly unique color combo on your hair if you're feeling adventurous.
6. Fiery Red
There's something vibrant and impactful about this copper color! Use shampoo and conditioner specifically designed for color-treated hair if you want to keep your fiery red hue.
7. Sandy Blonde
Despite its elegance and edginess, sandy blonde hair is modernized to look more white/grey than yellow. This icy hue is definitely in style and is a great alternative to brassy hair! Using a deep conditioning treatment or moisturizing your hair with baobab oil will prevent breakage from all that bleaching.
8. Geode Hair
Your hair will look like a precious gemstone with this amethyst to navy ombre, and unlike platinum hair, the geode hair trend doesn't require bleaching. Your hair will be less damaged as a result.
9. Eclipting
A new trend is emerging: eclipsing! In order to achieve this look, you first apply a darker base, then place strategic highlights, which emphasize the cut of the hair and contour the face. Beauty blenders are not necessary!
10. Smokey Lilac
Dark, grayish purple, and pale lavender are the colors that make up the smokey lilac hair trend. With this mystical combination, darker hair colors appear gray, whereas lighter shades appear more vibrant. A boho twist braid is the perfect summer styling option for smokey lilac hair!
11. Pastel Pink Hair
The pastel hair color trend is ultra-feminine and a great way to get a taste of all these fun, playful trends. I find it hard to choose from so many! A flower crown looks lovely styled with soft hues of pink, blue, and lilac. The color of your hair will be more pronounced if you bleach it thoroughly.
12. Strawberry Blonde
Peaches and apricots are among the juicy hues of strawberry blonde. In addition to flattering lighter skin tones, this hair color is playful and natural at the same time.
13. Dip Dye
The dip dye trend involves dyeing your hair to look like it has been dipped in dye. The best part is that you don't have to deal with that awkward growing-out stage. Short blunt cuts look particularly good with this trend.
14. Balayage
There's no end in sight to this trend! In spite of the fact that you don't color your roots, Balayage is a classic because it's easy to maintain. Throughout your strands, the highlights are softly blended, adding an irresistible dimension.
15. Soft Blonde
Blondes are always in style. The fine babylights placed throughout this color give off a soft, ultra-light appearance. If you have a feminine sense of style, this hair color trend is perfect for you.
16. Blorange
As the name implies, blorange combines blonde and orange hues. Strawberry blonde and rose gold hair colors just got even more dreamy and vibrant with this new take! Sunset peach hair is irresistible, after all. Take your summer look to a whole new level with these festival-inspired hairstyles.
17. Denim Hair
A bold color trend is in style this year, and this hairstyle is no exception. Like your favorite pair of Levi's, denim hair has a rich hue that won't be too vibrant, but also won't be too pastel, giving you that ultra cool look you've been seeking.
18. Ombre
It is typically darker at the roots and lighter at the ends, a clear-cut combination of two colors. Maintaining this hairstyle is simple, and there is no need to worry about roots! Do you still have doubts about ombre hair?
19. Deep Eggplant
Deep eggplant is also a great fall shade. A rich, jewel tone that is full of intensity and bold. Darker complexions look great with it.
20. Streaks of Neon
A bit nervous about the outcome of experimenting with unnatural shades? Test out the vibrant color by adding a few neon streaks to your hair. You can express your adventurous side with this trend.
21. Gray
It's time to flaunt your gray hair if you have it naturally! It is a hot, new trend for women to dye their hair gray. In order to maintain this cool toned color, purple shampoo can be used to remove brassiness.
22. Bronde
Do you already have chocolate brown hair? You can lighten it up for summer by going bronde! You can make your new do sparkle in the sun by adding a few subtle blonde highlights.
23. Burgundy
It can be compared to your favorite Bordeaux in terms of its warm, rich color. If you've grown tired of all the bright summer colors and want something new for fall, this hair color is perfect for you.
There are so many hair trends this year that it is almost impossible to decide which one is right for you! Let us know which hair color trend you like best and which one you are dying to try.
24. Amethyst Hair Color
With fun, vibrant roots, you can extend the life of your color between touch-ups! Platinum blonde hair looks stunning with amethyst roots, and this style keeps your hair healthier than bleaching it frequently. Are you still not convinced?
Set up an appointment with Nazzi in Larkspur and Santa Rosa, California, and she will help you with these ideas. For more information, visit www.nazzihair.com.
The information above is intended for general reference purposes only. It is not a substitute for professional medical or health advice. Always seek advice from your physician or other qualified health professionals before starting any new treatment.