2022's Top 10 Short Hairstyles
---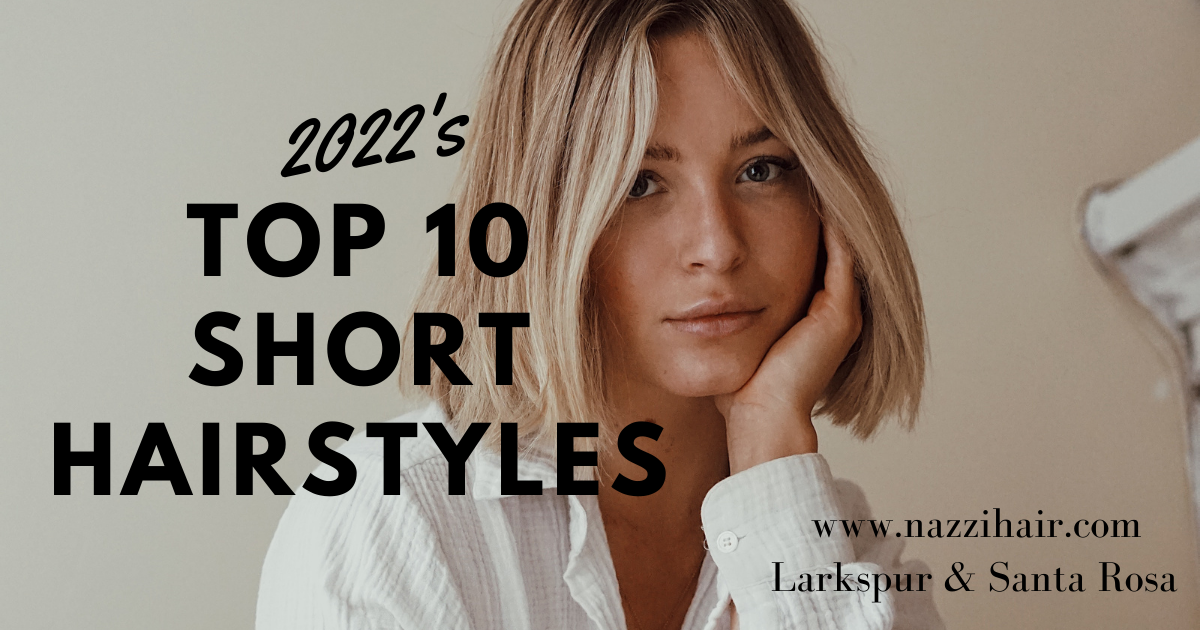 ---
Are you considering a haircut this year? Short, cute haircuts are perfect for those who are looking for a high-impact look. They are easy, breezy, and totally unique! The options are endless! A short haircut gives you unlimited styling flexibility and styling freedom whether it is a pixie cut, a bob or lob, or a cropped layered look. Take a look at these ten trends for short haircuts.


Bob Hairstyle With Roughed Edges

You may be tired of your bob haircut's lived-in waves or its flat, glassy texture. It's time to experiment with a more bouncy and full shape. Create a 90s-inspired blowout with a round brush and volumizing mousse and enjoy the fluffy, flattering result. With cranberry hair color and a center part, the look is edgy and fun.


A Pixie Cut With A Headband

Think again if you think short pixie hair cuts can't be styled with the season's trendy headbands. This looks fun and carefree. When you are a bridesmaid, try a velvet headband embellished with pearls, a bandanna tied in the style of the 1940s, or a slender metal band encrusted with rhinestones.


A Short Shaved Bob With Bangs

Almost every few years, the shag haircut makes a comeback because it's cool, versatile, and easy! There's a hint of mullet in the shag this season, inspired by the revival of '80s fashion, music, and memorabilia. To achieve the look, your stylist will blend layers and shatter ends so the hair is as full as possible. For a rock 'n' roll vibe, a messy texture created with salt-infused hair spray is the perfect finish.


Pixie Hairstyle With Barrettes

We busted another myth: you can definitely wear cute hair accessories like colorful barrettes with short hair! Using a comb, create a few deep waves on the side, then clip the waves with barrettes. In addition to looking cute in your hair, you can also remove them when your hair is dry, fluff them with your fingers, and voila! This wavy and full pixie haircut will turn out full, fluffy, and thick.


Short Bantu Knots Hairstyle

It's time to embrace your short curly hair! Put some Bantu knots on the sides and pull them back. To create a knot, coat each section of hair with curl-defining styling cream, twist tightly until the knot is formed, and pin into place with a bobby pin at the base of the knot.


A Bob with Waves and Angles

The bob has a new angle to consider. The hottest hair trend of this year is a slightly angled bob from back to front, gently waved to make it look carefree. Create waves by alternately directing the sections forward and backward, while ensuring the front sections face away from the face. To define the waves, scrunch a texturizing spray in the middle sections and leave the ends uncurled.


Tapered Platinum Bob

Smooth surface strands with a small flat iron after drying hair with a vented styling brush to avoid too much lift at the roots. Apply a humidity-repelling hairspray to prevent frizz.


Short Curly Pixie

Create wonderfully sculpted curls and waves for your natural hair. A flattering silhouette is created by the tight side sections and full crown. You can experiment with color on short hair.


Bob Blunt Platinum

The versatility of a blunt-cut bob is often underestimated. No matter what you wear, it will always look polished and chic. A few waves in the center can be added, you can slick it back with a firm-hold gel, or you can gather the top and sides in a clip or barrette for a trendy half-up look. Any hair color looks great with a sleek bob, so why not choose a shade that is truly striking?


Hairstyles with S-Curve Lobs

A more structured wave shape is taking the place of messy beach waves this season. As you move down the strand, you flip the hair upward and downward over the iron as you insert the iron at intervals along the vertical section. Prepare hair for the S-wave by spraying it with a shine-enhancing, moisturizing spray before drying.


Get in touch with Nazzi in Larkspur and Santa Rosa, California to set up an appointment, she will help you with these ideas. For more information, visit www.nazzihair.com.