10 Spring Hair Color Trends You'll Love
---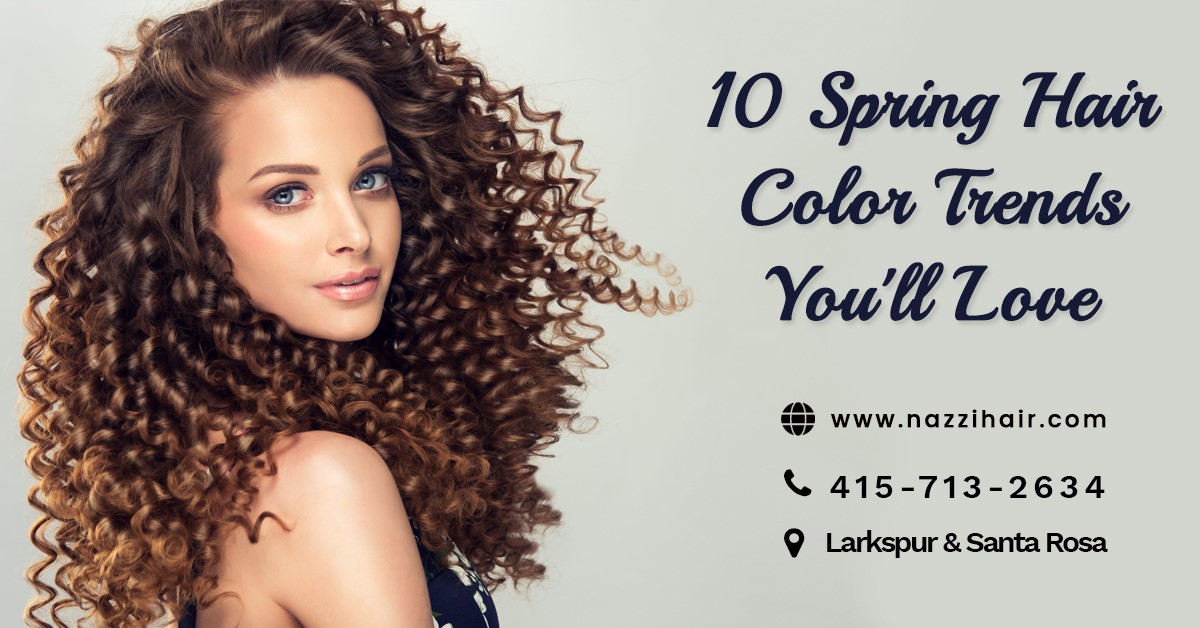 ---
We can't get enough of these spring hair color trends this year, so put your winter beanie back in storage and slip on a pair of sunglasses. We've got ten spring hair color ideas, ranging from cherry chocolate to chunky 90's highlights.
Rusty Copper
A new color trend in hair is taking over in 2022: red. One of the hottest red hair color trends right now is a natural-looking copper red, also known as "spicy ginger," "rusty copper," and "rosy red" -that's warm, elegant, and ever so slightly edgy.


Ivory Blond
It's on TikTok and in The New York Times, so it must be true...everyone is going brunette right now. Spring is all about golden shades of brown hair and our favorite shades are rich, deep, buttery shades of brown that look like soft buttery leather.


Soft Caramel
A soft, natural-looking caramel balayage is one of our favorite, tried-and-true spring hair color ideas! Spring is on the horizon with these subtle, blended highlights...plus they're so easy to maintain. Our favorite hair color is a rich brunette with soft balayage highlights. You'll also look radiant with this color.

Dark Honey
For blondes and brunettes alike, hair color trends in 2022 are all about warm colors. Currently, dark honey blonde is the hair color trend that's making waves. Dark honey blonde is warm, flattering, and beautiful is an extremely versatile shade of blonde that feels bright, modern, and perfect for spring. Everyone is able to pull it off. You can choose between golden, tawny, or taupe tones with this color.


Ink Black
Is black back in style for spring? Definitely. There is something to be said for glossy, caviar black that has depth and dimension. The landscape is so beautiful and rich, you'll want to make it a year-round activity.


Cherry Chocolate
We already established that the red hair color trend that took the world by storm in 2022 is an especially sophisticated version of the darker auburn trend this spring. Deep brown hair with ruby red undertones is perfect for spring hair colors, and if you love auburn hair color shades, don't miss out on this spring hair color trend.


Lilac
Pastel colors for spring? Incredible. In spite of all the Easter egg-like spring hair color trends, lavender or electric lilac are our favorite shades. You'll love a lilac hair color, especially if it's multi-dimensional with a hint of silver. Make sure you choose a semi-permanent color before you commit to long-term purple.


Teddy Brown
What's the "it" light brunette hair color for spring? Gorgeous teddy brown. It feels easy and low-key, just like the mushroom brown hair color trend of yore.


Chunky Ribbon Highlights
With this spring hair color trend, you can break up and brighten your base color with chunky ribbon highlights a la the 90s. You get more depth and dimension from these ribbons of color, as well as an appearance that is more evident and eye-catching than traditional balayage highlights. To add dimension and brightness, frame the image with face-framing pieces. It's true that these highlights are vibrant and eye-catching, but there's also a very unique way you can incorporate highlights into your spring hair color.


Natural Highlights
Natural-looking, sun-kissed highlights? There's nothing more spring-like than that. To set up an appointment, reach out to Nazzi in Larkspur and Santa Rosa, California. She will help you with either traditional foil highlights or hand-painted balayage.

Choose Accent Highlights to add some brightness around your face to get this gorgeous spring hair color look. You have a subtle lightness that's perfect for warm weather (we promise, it's coming!).
With these warm-weather hair color trends, we hope we've inspired you to switch it up for spring. What's your favorite trend? This spring, we want to know what big plans you have for your hair. Whether it's highlights, a new color, or a new style...we're listening!


Get in touch with Nazzi in Larkspur and Santa Rosa, California to set up an appointment, she will help you with these ideas.


Book an appointment @ Call 415.713.2634 or visit us @ www.nazzihair.com