Top 5 Spring Hairstyle Trends for 2022
---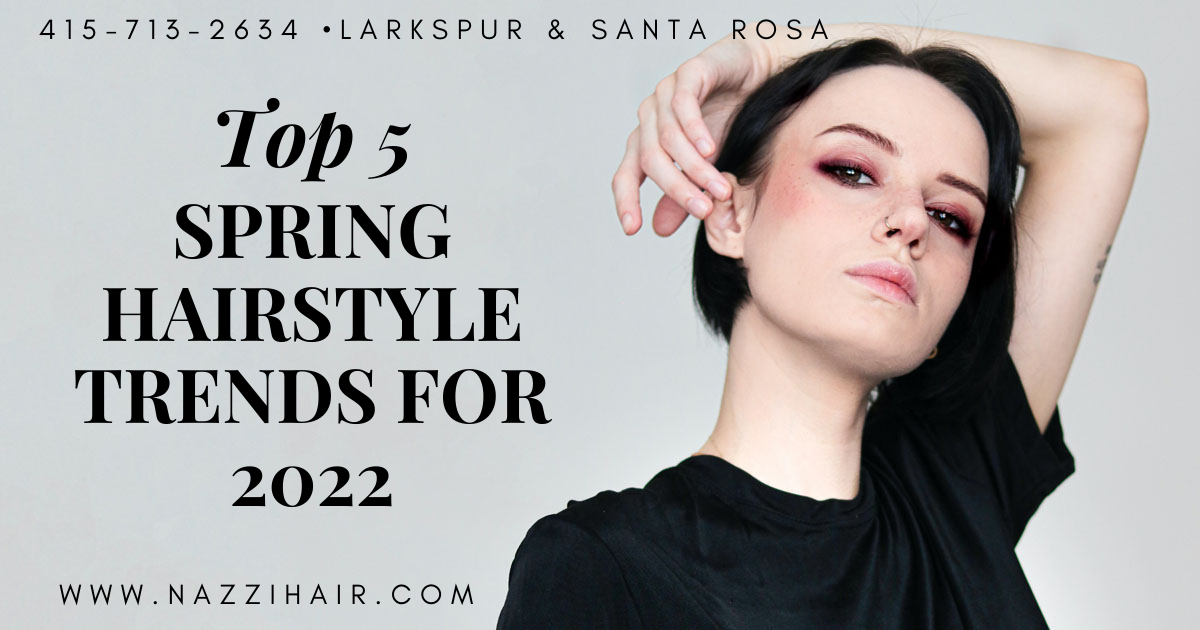 ---
Hair is going curvy (it has always been curvy). Shorter, curvier cuts are the hairstyles everyone's turning to this spring after years of long, middle-parted locks dominating our Instagram feeds. The warmer weather will bring out all five of these spring hairstyles.


Bottleneck Bangs

During last year's Oscars, the curtain bangs made a serious impression. The sassy bangs will also be around for spring 2022, but they'll get a new design with wispy bottlenecks in between. Do you know what bottleneck bangs are? It features long side bangs framed by a pattern of chunky bangs that graze the eyebrows. Because of how the longer pieces hug the cheekbones on round faces, this style of bangs looks great on any face shape.

Bottleneck bangs also grow out more smoothly and naturally than regular bangs. When the bangs grow out, do a middle part so they blend in with the side pieces.


French Girl Bob

Perhaps this is the time to give yourself a "Amelie" haircut, maybe even move to Paris. In TikTok, this cheekbone-length French girl bob has been picking up steam, proving this trend isn't just for Paris. French girls' bobs are characterized by short bangs, messy texture, and light layering around the face and mid-lengths.

If you wish to change your hair's color, unburden yourself from damaged lengths, or return to your natural color, this is the hairstyle for you. For anyone with curly hair, this style should not be avoided! French girl bob styles are so adorable.


The Short Shag

The short shag may be the correct choice if you find the wolf cut too bold. This is true: long shags look less "mullety" than short shags. Shags were all the rage in the 1970s and 1980s when big hair was the way to go. Make sure your stylist adds lots of layers and lots of texture and movement from the crown down.

Make sure the ends of your hair are shoulder-length or shorter to keep the trend's volume and thickness.


The Big Chop

A big chop can be achieved in so many ways. If you want to change the color of your hair, you can go for a big chop with a close cut, a buzz cut, or a pixie cut. Changing your hairstyle means making a major change to your hair texture, so it's important to find a professional who understands your hair texture and exactly what you want. You can ask the stylist if they have photos of super short haircuts they've done on other clients in the salon after bringing inspiration photos.

You may want to switch up your natural hair care routine after your big chop to include more hydration, or change your wash day schedule, to support your new hairstyle.


'90s Layers

Considering how easy and convenient it is to maintain and style, this has to be one of our favorite spring hairstyles. Among the A-listers with curly hair, many popularized the face-framing '90s layers.

There is an important step here, which is cascading front layers that go all the way down the hair. Typically, layers from the 90s were a dry-and-go style. You can define the layers in the front with a blow-dryer and rolling brush for a signature look. Make sure at least one side is embellished with colorful clips or bobby pins for the full '90s effect.


Get in touch with Nazzi in Larkspur and Santa Rosa, California to set up an appointment, she will help you with these ideas. For more information, visit www.nazzihair.com.