Ideas for Bright Work Hair Colors
---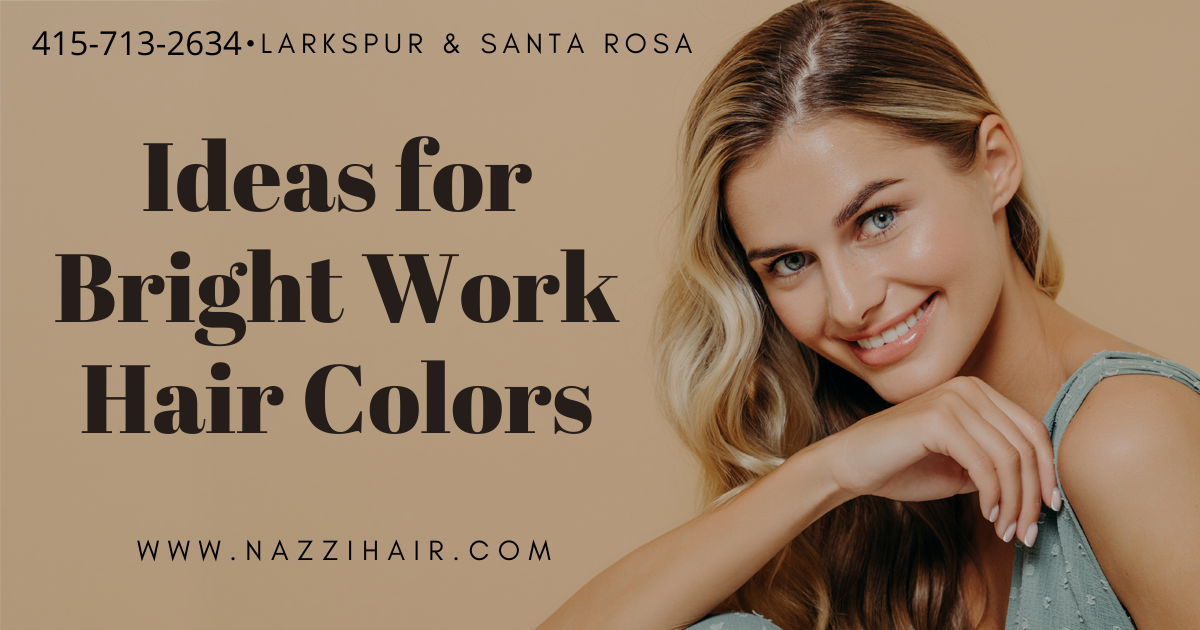 ---
You can't always get away with boring hair at work, but life's too short to have boring hair.
The term 'boring' hair is subjective. You don't have to have bright rainbow mermaid hair...you just need hair that you love!
You deserve a hairstyle that makes you feel beautiful, whether it be a chocolate brown, luscious red, or your natural color.
There are always ways to incorporate creativity into your workplace if you are restricted as to how bright you can go, or if you aren't allowed to use that kind of color.
There are the full-on vibrant colors and you can go all out like a bright, sparkly rainbow that everyone on Pinterest oohs and aahs over...
Vivids are VERY MAINTENANCE, so you must use a good salon shampoo & conditioner or the color will wash out in a few washes...and that's literally your money down the drain.
However, there are still colors that are just as awesome and are a little subtler and more 'work friendly' like PASTELS!
It will still be necessary to bleach your whole head with these colors. If you have long hair, you will need to freshen them up once a month. If you can pull this off at work, it is a great way to get a more 'natural' look.
Still can't decide? Don't fret! There are more options......
COLOUR POPS add some fun color to your hair with much less maintenance and more subtlety than a full head of vibrant color. The rest of your hair does not need to be colored if you are working with your natural hair. The color is added as highlights, which means you don't have to do your roots. The colors also fade nicely to a pastel version of themselves or to a lighter blonde (depending on the color you choose). When your color pops fade, you won't be left with a nasty 'pond scum' color. It's the perfect way to experiment without committing.
Also, there are HIDDEN RAINBOWS!!
Your wild side is hidden underneath your hair if you tie it up or bun it. The rainbow amazingness is revealed when you clip it back or tie it half-up!
In addition to these colors, you can also color/bleach the rest of your hair to a color of your choice. SSSSSHHHHH! No one will know!
Obviously, you don't have to go bright to be beautiful.
The following options can help you add some lively colors to your hair while still keeping it a more natural shade.
Balancing your hair's color doesn't go right up to the roots, so it doesn't require much maintenance. You can choose any color you want, from a warm blonde to coal ash... or even a brighter color like red. We leave the roots either dark or natural so it grows out more naturally, without the harsh lines created by highlights or full head bleaching, so they can be left for longer before retouching, or completely grown out without looking unkempt.
Employers accept reds and coppers more than natural colors, regardless of how bright they are. Because they are seen as more natural colors, they can be a great way to get away with a brighter color at work, but they are just as stunning.
Those are a few suggestions if you're stuck on an 'work safe' hair color. But which one are you going for?
Set up an appointment with Nazzi in Larkspur and Santa Rosa, California, and she will help you with these ideas. For more information, visit www.nazzihair.com