Extensions vs. Dreadlocks: Pros and Cons
---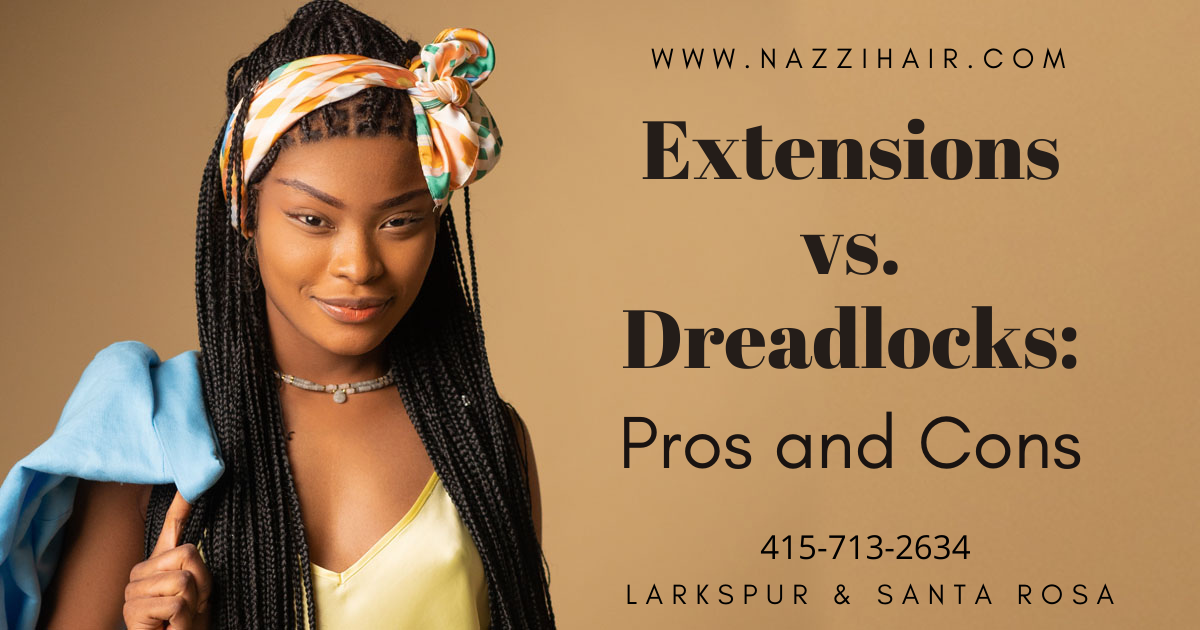 ---
In recent years, dreadlock extensions have become very popular. Now that lock hairstyles are in vogue, people look for solutions to get them without undergoing the lengthy process. It takes between eight and twelve months to complete this process. An extension can give your hairstyle a unique and trendy look and give you a new personality.
How to get the extensions?
The extensions can be obtained in two different ways. Dreadlocks can be obtained by converting your natural hair. This means that your natural hair is grown with dreadlocks. The whole process looks surreal, despite being time-consuming and arduous.
To get the same hairstyle with extensions, you can do a quick fix on your hair. The advantage of dreadlock extensions is that they allow you to wear beautiful locks without committing to them.
The purpose of this article is to help you get the extensions and grow them. The following guide will help you select the right dreadlocks for you.
To begin with, let's examine the types of dreadlock extensions.
Colors and types of dreadlocks
Dreadlocks come in a variety of types. Various types and colors of extensions are available, from natural human dreadlocks to wool extensions.
There are many types of hair, such as virgin, remy, natural, and wool.
The colors of the hair are also different, from black to white to blonde, ombre, and more.
Synthetic and permanent hair extensions are generally recommended by hair experts.
Dreadlock Extensions: Synthetics & Human Hair
Modern dreadlocks are often made of synthetic or human hair. Dreadlocks come in two different types, giving your hair a whole new look. Each has its own advantages and disadvantages. The advantages of permanent human hair extensions are that they exactly mimic natural hair. It is best to go natural as it makes the person look more natural.
The texture is similar to human hair. Very easy to maintain and light on the scalp. Those tangled dreads and loops make them look innate. The final benefit is that they can easily be dyed and styled like human hair.
A synthetic hair product feels different from a natural hair product. Synthetic hair products are difficult to manage due to their inability to handle the heat. This can cause them to melt, which is a significant disadvantage. Furthermore, it would be heavy on your scalp if you had many dreads.
Growing Dreadlock Extensions: Pros and Cons
Adding dreadlocks to your hair is a great way to transform your look. They grow from your scalp and are a great addition to any hairstyle. The growth gives you more volume. The length of baby dreads grows gradually, so results may take time to appear. Additionally, the extensions can be customized according to your taste and style.
What is the average life expectancy of dreadlock extensions?
Also, it lasts long from 2 to 3 years if cared for well.
Pros:
The best way to grow extensions is to grow dreadlocks. Some benefits to getting this type of hairstyle are:
1: Natural
Managing human hair extensions properly makes them look adorable. To begin with, they grow from scratch, which means it may take a long time to fully develop them but once they do, the results are amazing.
For hair extensions, you should use natural human hair. The hair is smooth and natural-looking. These extensions are easy to style as well.
Unlike natural dreadlocks, synthetic ones look more artificial. Because these extensions are not as soft as natural human hair, many cons should be considered before purchasing them.
2: Dye
Styles and management options for human hair extensions are varied. Human hair extensions appear natural without any additional manipulation or styling. Then, if you really want to style your natural dreadlocks, you can dye them with your favorite shade. Quality hair dyes can be used on human hair.
3: Soft
It's important to preserve your natural hair for as long as possible, and growing dreadlocks is an easy way to do that. However, there is nothing more precious than natural dreadlocks. Having extensions is another great way to change your look. The extensions that are naturally grown are extremely soft and can be managed with the daily products that you use already.
4: Save your loops
Extensions are naturally grown, so they contain the bumps all across the length of your locks, as well as the loops and tangles that normal hair is characterized by. Additionally, the dreadlocks also come with loops that maintain the natural appearance of the hair.
5: Light scalp
One of the greatest advantages of natural hair extensions is that they do not add extra weight to your scalp. Add more dreadlocks to your thin hair if you have thin hair. Adding locks to your hair won't cause you any additional weight on your head, even if you have heavy hair.
6: Volume
Would you like your virgin hair to have more volume? Dreadlocks are the answer. If you grow your extensions, you can naturally increase the volume of your hair without having to use harsh chemicals or extra hair treatments. Dreadlocks can eliminate the need for daily blow-dries, as well as the added heat on your head.
7: Partial dreadlocks
Growing dreadlocks also offers the benefit of allowing you to style your hair to fit your style and personality. Are you not a fan of locs covering your whole head? Dreadlocks can be partially woven from particular inches of your hair, or your naturally grown hair can be combed around the scalp and woven at the ends.
Individuals who enjoy styling their hair will find this a wonderful option. Mixing natural hair and dreadlocks is the best way to achieve new hair styles.
Cons:
Two sides always make up a coin. Take a look at the cons. Growing dreadlocks has the following cons:
1: Long procedure

You may need hours to remove the extensions from your natural hair, since the extensions are grown from the natural hair. Experts in hair care take time to make sure you get the best results from your hair, which is why the real magic cannot be accomplished overnight.
2: Time taking
In addition to being time-consuming, growing extensions has other drawbacks. To grow dreadlocks, it takes between six and 18 months. These extensions are available if you're patient enough.
3: Difficult to manage
In the beginning, natural dreadlocks are bay. They need more work to maintain. Several products are available for managing your hair.
Pros & Cons of Getting Dreadlock Extensions
Pros:
Dreadlock enthusiasts can get quick hair fixes by getting the dreadlocks. The following reasons will persuade you to do just that:
1: Quick
As opposed to growing your natural hair into dreadlocks, getting dreadlocks extensions is a quicker process. It takes an average of 18 months to years for dreadlocks to grow to a good length. Meanwhile, extensions only take a few hours each.
2: Neat and subtle
Handmade extensions are quite neat because they are made of synthetic material. This is an excellent choice if you prefer a neater look to your dreadlocks. Loops and bumps are present in naturally growing dreadlocks, so they don't appear sleek.
3: Temporary
Confused about your hair because of your friend's dreadlocks? Relax. Just let them grow for a few days and experiment. Afterward, you can carry the style. Alternatively, you can get them removed quickly when you use the proper removal technique. Furthermore, you can experiment with different dyes until you get the desired results.
4: Sealed
As new hair grows, the length of the natural hair extensions increases. However, regardless of whether you get natural or artificial dreadlocks, they can be sealed as per your preference to give mature and natural locks.
5: Volume
Add extra volume to your thin hair with hair extensions if you have thin hair. Depending on the volume of your hair, you can add 70 to 200 dreadlocks to it. It is advisable to get thin dreadlocks to add more volume to thin hair.
6: No Shrinkage
The installation of hair extensions has the advantage of not shrinking. Unlike naturally grown dreadlocks, synthetic extensions do not shrink.
Cons:
There are also cons to getting dreadlocks. Here's what they are:
1: Different
For those who are unable to grow their own dreadlocks, extensions can be added. In addition, they may not look as natural as normal human hair, and a well-trained hair professional may see a difference between them and natural hair.
2: Heavy on the scalp
Your scalp gains weight from the extensions and your natural hair, and your head gains weight and volume. Additionally, it becomes harder to handle after taking a shower for some time.
3: Difficult to manage
Excessive heat can melt synthetic hair extensions, resulting in a waste of money. Installing synthetic hair extensions in the hair can be challenging and cost a lot of money. Furthermore, the locked moisture may cause your dreadlocks to contract a fungal infection, requiring expensive hair care products.

Nazzi will assist you with these ideas when you contact her in Larkspur and Santa Rosa. For more information, visit www.nazzihair.com